Truck Tie Downs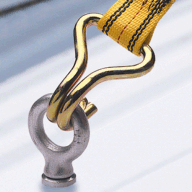 Truck tie downs aren't always convenient and easy to use.
Bed Bolts is a tie down anchoring device with a removable eye bolt to secure your motorcycle, ATV, lumber and other heavy loads.
Bedbolts can be used for hauling motorcycles, snowmobiles, ATV's furniture, and it's even good for pets!
Motorcycle Tie Downs
Our objective is to provide the strongest truck tie downs available on the market today while maintaining a reasonable price.